Imelda and Gustavo, Ikast
The kids' wellbeing and ability to network with other internationals were crucial factors for our family when buying a house in Ikast.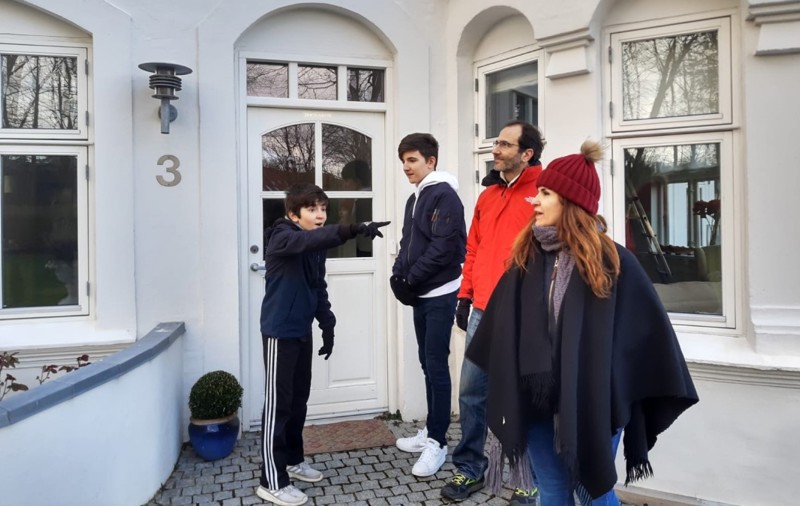 Imelda and Gustavo moved to Ikast in 2019. The family of seven is very experienced in relocating to new countries. Originally Spanish, they have lived in four different countries over the last 15 years.
Their first relocation was to Hannover, Germany. After 10 years in Germany, they moved to Wisconsin, USA, for three years. At this point, the oldest daughter went back to Spain to start university. Spain suddenly seemed very far away. They decided to come back to Europe. In 2018, Gustavo moved to Denmark after landing a job at Grundfos, a Danish leading supplier of pumps. Imelda and the four boys stayed in the USA so the boys could finish school. In the meantime, Gustavo went house searching. This led them to Ikast.
The four boys are aged 18, 16, 13 and 11. The two oldest ones now study the International Baccaleureate at Ikast-Brande Gymnasium and they live at Sportstart College in Ikast, where they can be practice sports and be with friends. The youngest ones attend the international school.
"Before moving here we visited the international schools in the Central Denmark region for inspiration. Actually, we knew the International School Ikast-Brande already because friends from Germany moved to Ikast-Brande years ago, and we visited the school when visiting them. The atmosphere is nice and we value a good environment for the kids," Imelda explains.
The family spends a lot of time at Hjertet, a multi-functional house where the citizens can meet, do sports and use the facilities. They find that Ikast, with a size of approx. 16,000 inhabitants, has a lot to offer compared to their former – and much larger – hometowns. "There are six supermarkets and an amazing public swimming pool in Ikast. We go to English mass in Aarhus every Saturday and it is easy to transport ourselves around with the motorway nearby", Imelda continues.
It's a huge advantage for us that we are now much closer to our daughter and our whole family and friends in Spain. When living in the USA, we used to fly to Spain only once per year because plane ticket prices for a family of seven were high. Now we travel two or three times per year. We like it here, and we hope to stay, Imelda closes.
Good advice
Invite the neighbours in and share your culture. We invited neighbours in for coffee
Learn the language – We take private Danish classes at home twice per week until we can start language school "Lær Dansk"
Join expat networks for events in the area: International Dual Citizen Network, Internations, Rotary Club, and International Society.
Visit Hjertet (in English: The Heart) in Ikast. It is very international and a good place to meet friends – especially if the weather is bad.
– Regards, Imelda and Gustavo
Curious about Ikast?
Learn more at the Danish site.